Out of the ashes of Metal Blessing Radio, Sanctus Gladius Radio and many other shows and stations rises Reanimated Radio!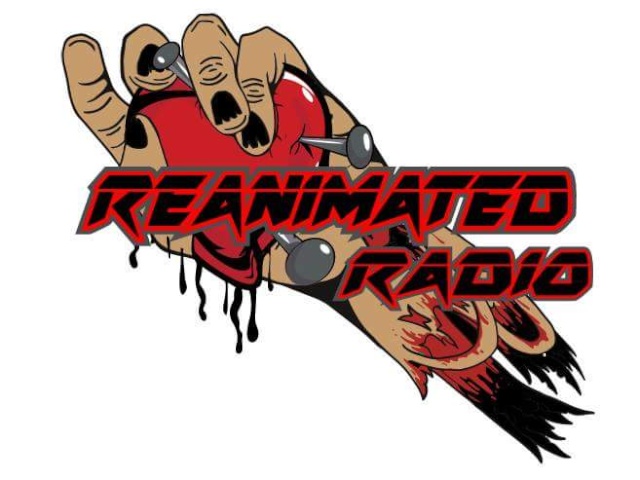 Reanimated Radio will not only be a 24/7 Christian metal radio station but it will also be home to many live DJ shows. A website is currently in the works, but for now you can follow our progress by liking us on Facebook at:
http://facebook.com/reanimatedradio
We launched a funding campaign yesterday. If you feel led to do so, or wish to support us please take a look at our Patreon page:
https://www.patreon.com/blakesherwin?ty=c
There are a number of cool reward levels you may want to check out. To clear up some confusion though Patreon allows contributors to commit to supporting with monthly payments. The reason we set it up this way as opposed to kickstarter is because we will need ongoing operating expenses paid of roughly $1000 per year.
However if you would rather send a one-time contribution instead of a recurring monthly donation you can bypass the patreon altogether and send funds via paypal to:
donate@reanimatedradio.com
If anyone feels led to give $25 per month you will get to write a catchphrase for one of our 5 second station IDs (stingers) which will be sent off to be recorded and produced by a professional, now that's pretty cool!
------------------------------------------------------------------
Here are the finer details:
Operating a fully licensed, legal radio station will cost us roughly $1000 annually. This number includes the following:


Stream hosting

Stream licensing

Web hosting

Domain registration

We will also have other one-time expenses such as merchandise and promotional materials, and station IDs, etc so anything above $1000 will be used for these purposes. Reanimated Radio is a combined effort by the following stations and shows:
Metal Blessing Radio
Sanctus Gladius Radio
The Master's Metal
Metal For Christ
The Cross Stream
Christian Armor Radio
Hammer of God
Resurrection Metal Radio
318 Nation
Divine Aggression Radio
The Aussie Hour
Covenant Metal Show
Blood n' Metal Radio
Once the website is up and the station is fully operational it will open up many possibilities in time. You will be able to connect with your favorite DJs through various avenues on the website and possibly even through a youtube channel in the future.
We cant do this without you so please consider contributing to help us get this going.
Wow thats a lot of stations merging!!!

Hope you guys can carry on as one!!!

Hardcore Christian

Holy Unblack Knight





Posts

: 3966


Join date

: 2013-07-31


Age

: 17


Location

: Spokane, WA



***Update***
Things are going well and we are getting closer to launch every day. Our designer is working on getting the website done and we will soon have a live show schedule in place. The new site will have a number of cool features including DJ bios, devotionals and much more to come in the future.
If you have not already go over and "like" our Facebook page:
https://facebook.com/reanimatedradio
And of course as before if you feel led to contribute financially you can do so via our Patreon page:
https://www.patreon.com/blakesherwin?ty=c
Or you can send it via paypal to:
donate@reanimatedradio.com
Its official!
As of today 3/4/2016 Reanimated Radio has officially launched and is live! You can visit our website at
http://reanimatedradio.com
, and you can tune in via the links at the bottom of the page. Also you can read various album reviews, news and devotionals.
Show schedule is also up, DJ bios are up and show pages will soon be filled with information about each show. Check it out and let us know what you think!

PlaceOfASkull

Seasoned Guardian





Posts

: 257


Join date

: 2012-02-01


Age

: 49


Location

: Gladstone, Mo.



Thanks for the support. Did you catch Frank's show, The Hammer of God? That was from 8:00pm to 9:00pm CST
This is an awesome project! Keep up the good work guys!
An update from Reanimated Radio:
Things are going good and we have been broadcasting for a little over a month now with no major issues. We are continually working to improve things and still have some things coming soon.
- Soon we will be adding two new shows to our schedule, "Blood n Metal Attack" with John, coming from the UK, and "The Aussie Hour" with Necromanicide, coming all the way from Australia!
- We plan on adding a new chat feature soon so you can interact with DJs during their live shows.
- Also I will hopefully soon be launching an indiegogo campaign to raise money for our "Outreach Vehicle." The plan is to acquire a 1968 Cadillac Hearse and not only affix it with the Reanimated Radio logos but also display a theme of dying to your self and becoming a new creation. This car will be used for multiple purposes, not only will it be driven to shows and festivals, but it can also be ministry tool at car shows, Halloween events, and also hearse conventions! Yes, there are conventions devoted to hearses, such as HearseCon, and having a Godly presence there would be great as this is all about shining a light in a dark place. I recently made a few rough mockups of early design concepts, although we will be using the help of a professional designer when the vehicle actually gets wrapped. These are not the final designs, just a visual concept: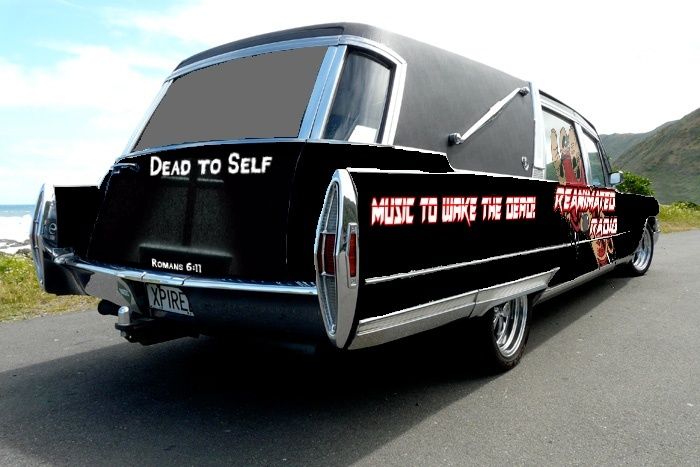 Its been awhile since I updated this thread. Next month will be the 1 year anniversary for Reanimated Radio's stream going online. Over the last year we have posted lots of album reviews, news and played plenty of Christian metal. A number of our DJs have done or will be doing tributes to Dale Huffman. If you haven't already like us on Facebook for more frequent updates.

---
Permissions in this forum:
You
cannot
reply to topics in this forum